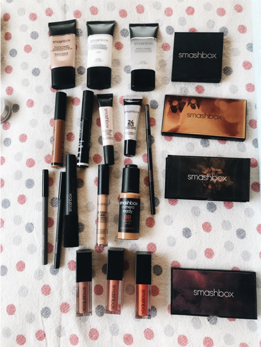 I'm a fashion & lifestyle blogger and over the years, I've managed to make a name for myself in the influencer world. What they don't tell you when you're starting out in this industry is that a lot of people will send you a lot of product in the hopes that you'll share their brand values and love with your audience. Which all in all can become a lot of work!
And, the work came in when the other day Mama Moli and I decided to go through all the media drops and care packages I'd accumulated. Our goal was simple: declutter the space that once resembled a room – a far from glamorous chore considering how much had piled up.
It turns out that I had built quite the make-up collection. From premium brands right through to the cheap stuff I bought when I couldn't afford anything better, yeah, let's just say I had quite the array of cosmetics. To put it lightly, I probably had enough to run a small army of models for a couple of months, maybe even a year. It dawned on me that sorting all of it out would take many an hour. Sigh.
Despite all the trouble and effort that came with cleaning the clutter, it occurred to me that there was something far worse out there… the admin of claiming back from insurance. Piles of paper work to sift through, a barrage of questions, and more? I'd rather sort out my room any day, over and over again, from scratch if necessary.
Don't get me wrong, both tasks are ridiculously tedious, but at least some good came from the one. My spring clean allowed me to give my cousins a variety of perfumes, clothes, make-up, and lots of other little other weird and wonderful things I'd been given.
Would I go through all that trouble and effort again? For sure. Would I trade it in for a "simple"insurance claim? No thanks.