I've always wanted to do a staycation series on my blog because I feel that most times not all of us have the money for expensive vacations or can't leave home for extended periods of time. I took it upon myself to find unique places that Joburgers can visit when they need peace of mind or a little escape from everyday life. Kick starting my staycation series, I recently visited Morrells Boutique Hotel and Venue. I discovered this hidden gem at a exclusive food and wine pairing event earlier in the year and I told myself that I completely needed to go back when I found the time. I couldn't believe that I had stumbled upon such a hidden gem.
At the end of year we all find ourselves feeling really tired and fatigued and in need for some peace and relaxation. I decided not to leave Johannesburg this December seeing that I was away in Mauritius not so long ago and also my usual go-to destination, Cape Town is currently under a water crisis. Awks. Home seemed to be the best idea. While here, I decided to go visit Morrells just before getting together with my family for Christmas. 
A week before Christmas, Bash and I packed our overnight bags and headed to the heart of Northcliff for a much needed timeout from our ordinary lives. I told myself that with this staycation there were two things and two things only that I had wanted to do and that's sleep and soak up the sun; and that's exactly what I did. 
SLEEP
On the first day of our staycation,  we checked in at Manor House which is just up the road from the main Morrells property. Manor House guesthouse is charming and comfortable. Designed in a vintage-french decor is delicately integrated with a unique modern aesthetic, giving you the right amount of sophistication and luxury to make you feel right at home upon arrival. The large gardens across the dining area caught my eye as I was moving my suitcase into our suite so the first thing I did was change into a cute bikini, pack a bag and head to the pool so sip on some rose and enjoy the sun. Each suite is specially named after a unique flower, we stayed in the Gardenia Room. This spacious french guesthouse suite is spacious with lovely wooden flooring, an extra long queen size bed  and private patio that I enjoyed the most when I wanted to smoke my shisha. 
The following we day we tucked into a scrumptious breakfast at Manor House before checking out and moving into Farm House. Most of the facilities of the Morrell's boutique estate can be found on the Farm House property. A spa, chapel, bistro and of course more lush gardens.
At the Farm House, we stayed in the Usekuma Room. This suite was slightly smaller than the one at Manor House but definitely cosier. Overlooking the perfectly manicured gardens which made for the ultimate backdrop for some of my Instagram posts, I  was in heaven. The en-suite bathroom comes with a Victorian bath and shower which fits perfectly with the vintage theme carried throughout the country house that was one a farm house. The house has a pretty patio and a cosy lounge and dinning room, the perfect setting for afternoon tea. 
EAT & ENJOY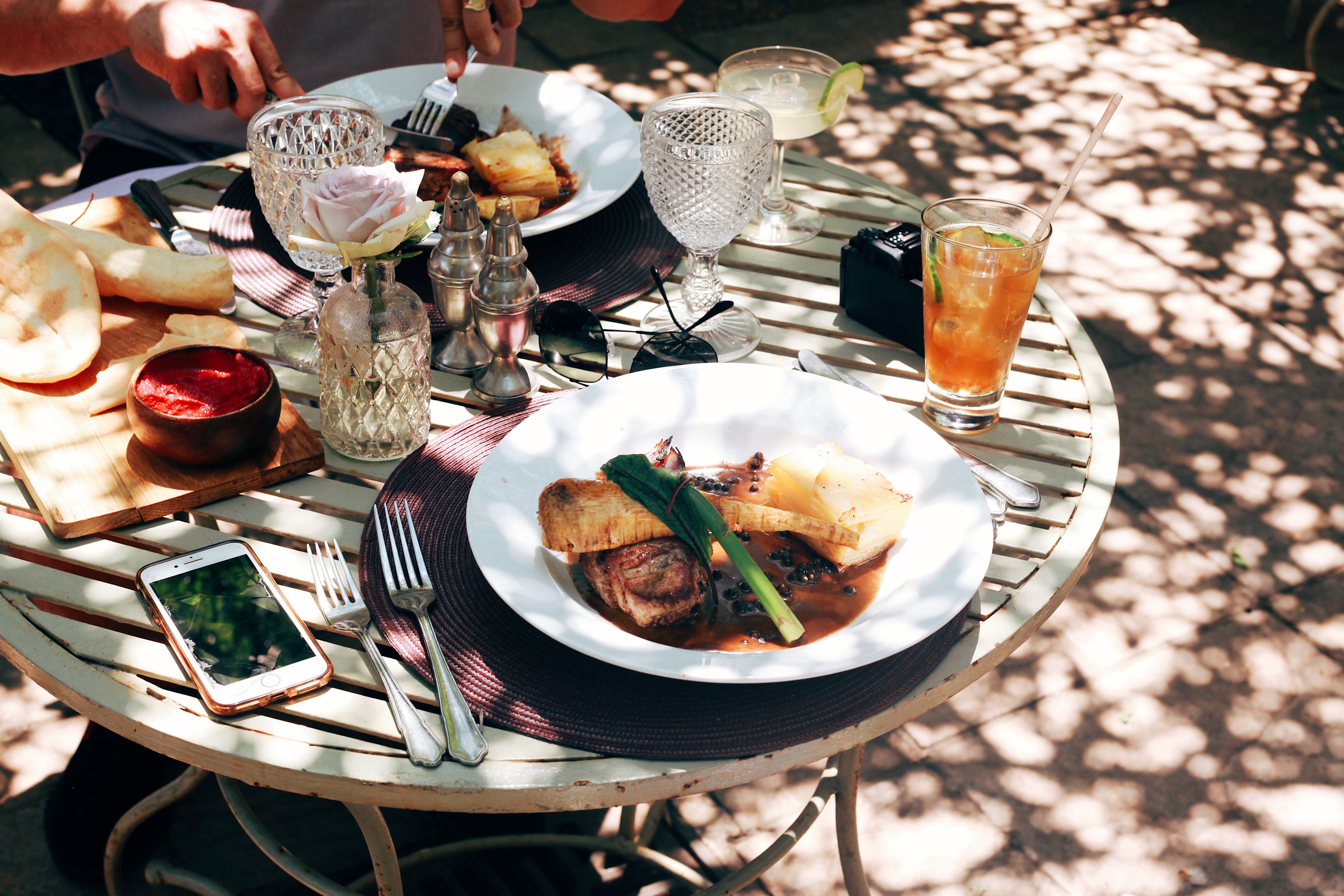 Shortly after checking in, we walked across the road to the Farm House to have lunch at the bistro. Walking in, the first thing you will notice is just how pretty and tranquil the bistro is, with soft music and the sound of the fountain in the centre of the beautifully set tables.The perfect setting for a sunny Summer's day. Bash and I sat on the romantic two seater and quenched our thirst the most refreshing cocktails. We tucked into a beef fillet served with roasted veggies and enjoyed the rest of our afternoon in the sun. 
With all the sun time that I got during my first day, I had planned on dedicating my last day at Morrells to sleep and relaxation. Naps, a spa day and a hot bubble bath to end of my stay. Two of the three things of my list were accomplished. I enjoyed a very long nap on the perfectly placed sun bed in our suite so that I missed my spa treatment. Bash went in for his and came back as sleepy as a baby boy. After dinner, he ran me a, extra hot bubble bath with a glass of cold champagne to make up of the spa treatment that I had missed.
Bedsides the well located property, great service and hospitality, Morrells is perfectly situated near several shopping centres, fast food restaurants and the best fruit and veg shop (Mary's Fruit & Veg) where we found the best baked treats; their milky bar cake is to die for! We ate breakfast on both days at Morrell's but for other meals walked to the shopping centre to get lunch and ordered dinner on Uber eats. There is quite a lovely selection of restaurants to order form if you decided to go that route. 
We both left Morrells feeling well rested and rejuvenated enough to enjoy the rest of the festive season. The definition of a home away from home, I would definitely recommend visiting this lovely property for peace of mind and escaping the hustle and bustle of everyday Johannesburg life.