Austin and I arrived at the beautiful Paradise Cove Boutique Hotel in Mauritius 7 weeks ago with no expectations at all. I had tried to do a little research on the place so I knew what to expect but I also kinda wanted the look and feel of the hotel to be fresh to my eyes on arrival. Situated in the north of the island, a good hour away from the hotel, we literally had to pick up our jaws off the floor as our car pulled up in front of the lobby when we finally reached the new renovated boutique hotel.
I had been given the lovely assignment of creating content on the property during my week stay on the island and thought who better to travel with than my long-term friend, Austin Malema, who had basically been living in the sky for most of 2019. This trip came at a time were I was busy assisting another brand with an upcoming event but because travel is a number one priority I had to pack my bags quickly and jet off to the island to capture the property and catch a tan while at it.
"Paradise Cove Boutique Hotel is an adult only hotel situated along the North Coast, only a few kilometres away from the lively village of Grand Bay and 25 minutes away from the capital city, Port-Louis. The revamped boutique-hotel boasts 75 rooms with view on the Cove. The hotel offers a large choice of land and nautical activities including a spa for those that want to relax and unwind."
The Property
Literally every corner of the hotel is instagrammable without even trying. The woven details of the lamp shades, chairs, pastel colours of the cushions, and the 100s of day beds spread across the property is truly something else. You can't help but stop at every turn to take in the beautiful details of the space. 
I literally felt like I was on holiday even when I was in my room. The deco once again took my breath away! I had a cute little balcony too which overlooked the man made beach on the property, from there I could see other guests napping and enjoying their time in the pool, What a treat. 
Wine & Dine
I spent a good portion of my time at the Stay Bar chatting to a newly found friend, Lubby – one of their friendliest barmen – who made sure my thirst was always quenched with his delicious rum cocktails.
There are 3 bars and 4 restaurants that cater to all of your culinary needs. I obviously indulged in their delightful seafood and Mauritian dishes as often as possible. Of the 4 restaurants on the property, XO, was a firm favourite. A cosy sushi restaurant that serves probably some of the best sushi I've ever tasted, a mix of spices, herbs and fruit, a healthy take on the Japanese cuisine. I had my first taste of sake during one of our dinners there and a matcha creme brûlée for dessert, a new experience for my tastebuds.
Activities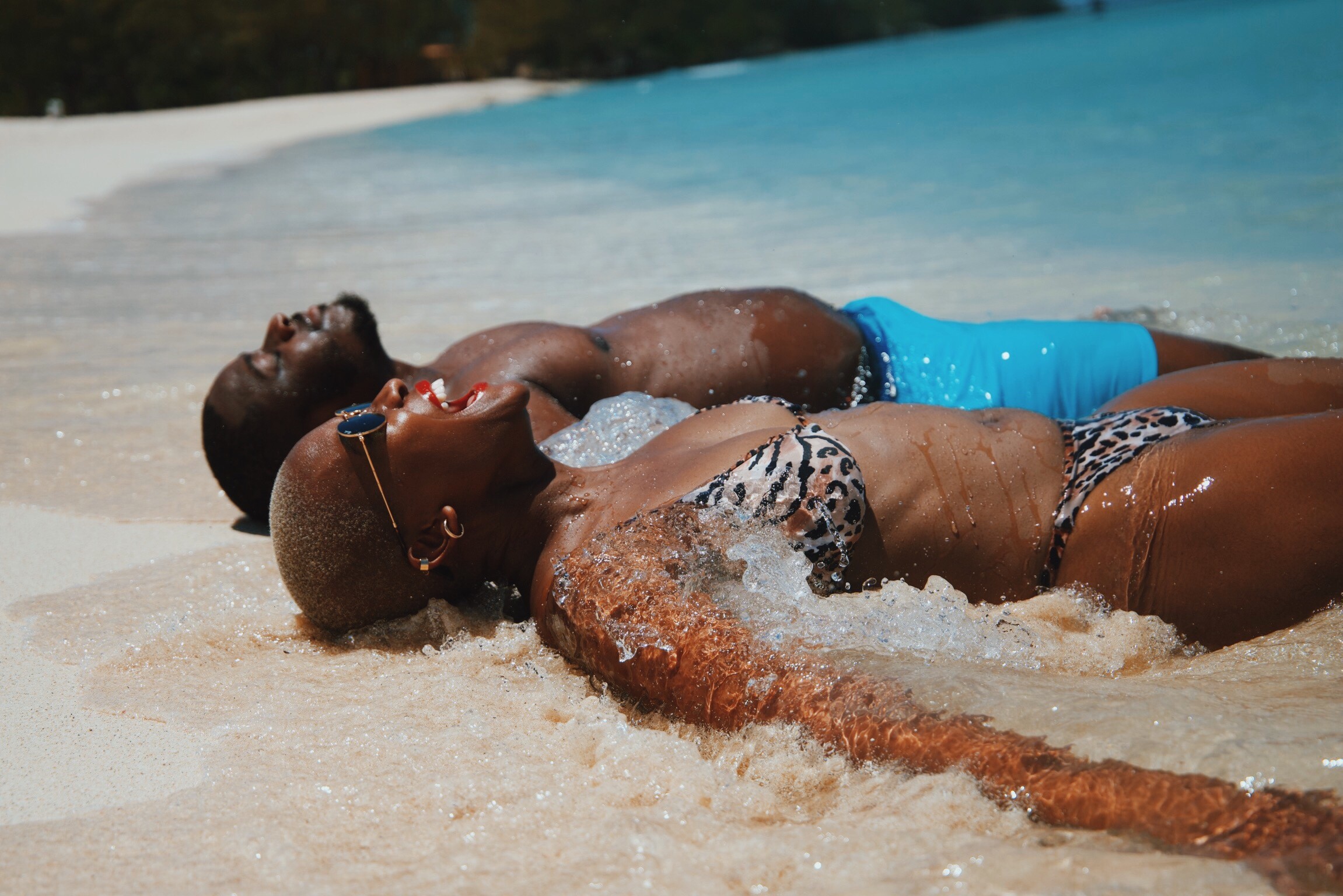 It may look like I spent most of my stay tanning and drinking but I did get involved in some of the activities at the hotel. There's a something for everyone. If you're there to catch up on rest and sleep on one of the many daybeds, that's okay but there are several activities to keep you busy inbetween the swimming. Morning yoga classes are available twice a week, stargazing with an astronomer once a week as well as a catamaran ride that sails off to one of the nearby islands for the day.
Paradise Cove Boutique Hotel has their own nifty app that guests can use to navigate their way through the island when they do choose to leave the hotel. The app has itineraries that will lead you to some of Mauritius' historical sites and beautiful sceneries that you might miss if you aren't familiar with the island. A wonderful taste of the island's locals and rich cultural heritage. We went on a lovely street food tour on our of our outtins and go to walk the buzzing streets of Port Louis, stopping to grab a snaps of the street art and fresh roti as we explored. I really thought that the was a special touch to the many things that Paradise Cove Boutique Hotel has to offer.
I would highly recommend a stay at this small luxury hotel for couples, small groups of friends who are really looking for a hideout on the island. You loterally leave the hotel feeling rejuenated and ready to take on the world again. The perfect place to relax and recharge. 
Thanks for hosting me, Paradise Cove. x