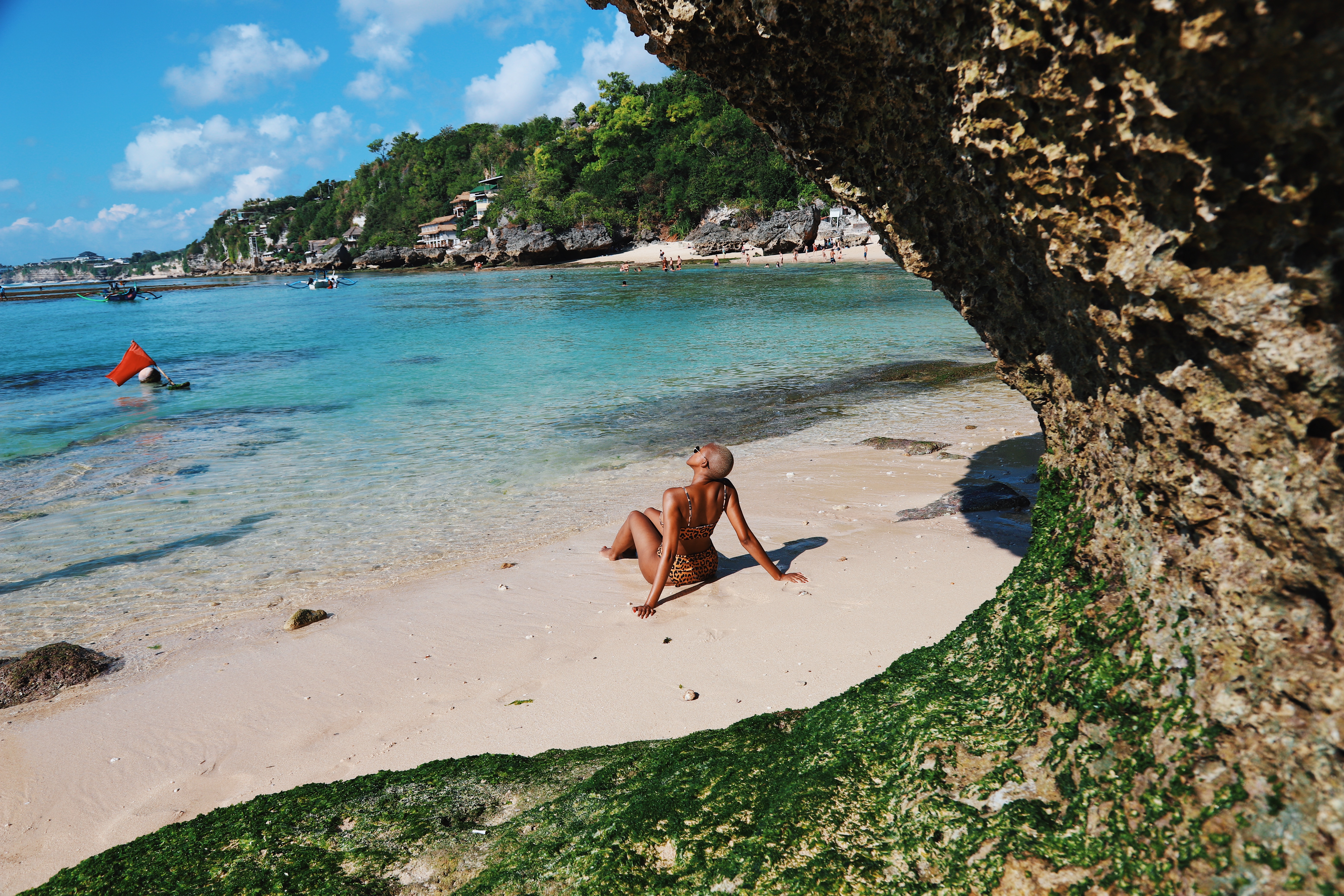 I'm not usually one to spend money or do anything extravagant for my birthday but this year I planned a birthday getaway for myself and my bae. I've literally dreamt about travelling to Bali for years, anyone that knows me can confirm that. I can't exactly pin point where this serious urge of wanting to go there came from, but I just haven't been able to shake the feeling. 
After going back and forth with Bash ,and with myself really, we finally made the commitment and booked to travel just a few days after my birthday. Together with a travel agent, I managed to get a good package deal at a reasonable price and all I had to do now was pack, wait and binge watch as many Bali vlogs as possible. 30 days felt like the longest wait during the month of April! 
Even after watching nearly every single Bali vlog that I could find on Youtube to find cool things to do and places to visit, I did find myself super overwhelmed from the minute we touched down at Ngurah Rai International Airport after being up in the air for close to 18 hours! That was the longest time I've spent travelling to a place ever in my life and boy was it an experience. 
Getting There
We flew with Qatar Airways from O.R Tambo International Airport and had one layover in Hamad International Airport in Doha, that took about 8 hours. I managed to sleep the whole way. Fortunately, we had an evening flight so my body wasn't confused at all, not that I ever struggle with sleeping. I can sleep any time, anywhere. In Doha, we waited for about an hour for our connecting flight. Many people fly from Joburg to Hong Kong but it worked out cheaper for us to fly to Doha and then Bali. For cheap flights to Bali, or anywhere in the world really, it is always advisable to shop around and find affordable flights to suit your budget. From Doha to Bali, it took us a lengthy 10 hours which I spent napping, watching movies, listening to music and surfing the net. They have super Wi-Fi that we gained access to, the first hour is complimentary, there after you pay. I spent about R100 for unlimited access till we landed. That was literally the best thing for me!  The on-board entertainment on Qatar is really up to date and the food wasn't so bad either. 
Airport Tips:
Organise a driver to pick you up from the airport before you leave for your trip. You can do this via your travel agent, but make sure they provide you with a name and contact number. Or you can use the friendly driver we found who I found on a cool Bali Vlog before leaving for our trip.
Try not to look too lost, the cab drivers will pick it up instantly and will then proceed to harass you until you choose to ride with one of them. On arrival you will literally be swarmed by over 20 cab drivers, offering to transport you to your hotel at exuberant prices! Unfortunately for us, we couldn't find out driver and fell into the trap of taking a local cab who charged us 3 x more than the usual price.
Figure out the currency and exchange rate so that you know how much you should be paying for a lift from the airport to your hotel or villa. The sooner you figure this bit out, the better. It will help you to not overspend during your stay.
Purchase your sim card upon arrival so that you can contact your driver or hotel. Chances of you getting a sim card once you have left the airport are very slim because there is wi-fi literally everywhere in Bali. Having a sim card helps with just being online and making calls and texts as you please.

Where To Stay 
We stayed in a lovely hotel called The Bliss Surfer Hotel in Legian which is about 15 minutes from the airport about 20 minutes to Seminyak where we spent most of our time. Our hotel was tourist friendly and had all of the facilities that a traveller looks for: fast internet, a great pool, spa, 24 hour room services and shisha! That was a massive plus for me. The only disappointment was their food. We had breakfast included in our package for the days of our stay but we only ate there once. The food was horrrrrrrible! Other than that, I really loved the hotel and would definitely go stay there again. It is walking distance from Legian Street and Poppies Lane 2 which has some incredible restaurants so I wasn't too sad about the hotel food being a let down but that does mean that we spent more on food than we had intended on.
We chose not to book out a villa because most of them are so pretty and a bit far out that it didn't make sense for us to spend so much money on a place that we would only be spending time at to sleep. Perhaps during our next visit we will consider it.
Being the tourist hotspot that Bali is, there truly is everything for everyone. From backpacking, luxury living or if you're literally arriving and winging it like we did, you will find something that suits your needs. Even though we spent so much time researching things to do and places to visit, we literally woke up every morning a little overwhelmed with what to do for the day as the options are endless! 
Our ultimate game plan was to do all of the touristy things during the first few days and then sort of take it easy for the rest of our stay there. This wasn't really the best plan because we ended up exhausting ourselves. Jet lag is also a real thing, we slept around 4am every night and forced ourselves to be up at like 9am as to not waste a day in bed.
Things To Do:
CULTURE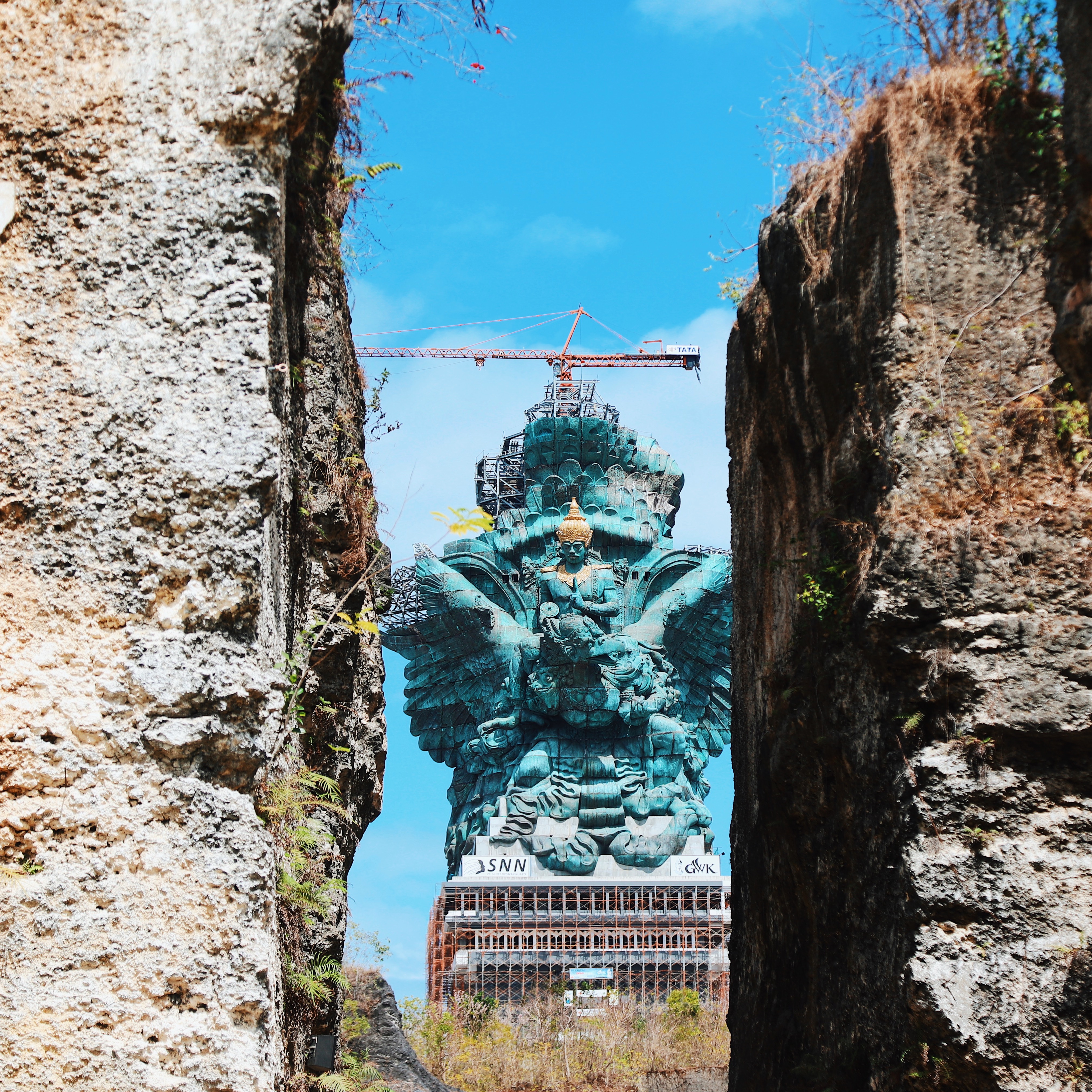 Traveling from Legian to Ubud where the heart of the Balinese culture is, was about 1h30minutes from where we were staying. Getting there first thing in the morning was a good ides but coming back was nightmare as traffic was at its peak, this was around 5pm. I would definitely suggest actually booking an airbnb in Ubud and stay a couple of nights and explore rather than to do a day trip.
In Ubud you will find The Big Swing, the rice terrace, the elephant cave, the sacred monkey forrest and the like. We hadn't booked a tour for this but managed to get our driver who was meant to pick us up from the airport the day before to take us to Ubud for free. This wasn't the best idea. He wasn't too into it and took us to a lot of useless jewellery shops, and batik clothing shops – I suspect that some of the drivers have a deal with these shops to bring tourists here during the tours. The shops were super commercialised and pricey!
We managed to go to The Big Swing as well as The Tegalalang Rice Terrace, which were equally amazing experiences. The Big Swing is specifically designed for tourists to come in and get their photo taken, there is a photo op at every corner on those grounds while you wait to take your turn on the swing. That win is big and really scary. You feel like you're flying into the forrest, even though there are enforcements to protect you from falling, it is pretty scary but so much fun!
on our last day in Bali we visited the very famous Uluwatu Temple. There were soon many people there, but with reason. The views from there are spectacular. We made it there just in time for sunset and to watch the performance of the famous fire dance. 
FOOD
Initially, our plan was to eat as much local food as possible and obviously try out the Balinese cuisine. That didn't realllly happy. Our driver warned us to not even dare! lol He advised us to only eat from the hotel or 3-5 star restaurants and not from the many local places or street vendors because of a little thing called Bali Belly. Bali Belly is a food bug that many tourists get while in Bali, apparently our little sensitive tummies cannot handle the flavours and spices that are found in many of the local, traditional food. Not wanting to take any chances and falling sick on vacation, we opted to visit Instagram famous cafes and restaurants and eating from there. we tried to order a lot of seafood just so that we weren't really eating ordinary food that we could find at home. 
We basically ate our way through Seminyak during our stay. Seminyak is filled with the cutest restaurants with traditional Indonesian food with a modern twist. Oh and there are like a million vegan restaurants too.. like a million. Our favourites were definitely:
Coffee Cartel, the personalise your coffee and write/draw just about anything in your lattes and cappuccinos.
Principle had the freshest and tastiest food with the most flavour! They have two for one pasta specials on Tuesday which is such a deal for when you're spending a lot of money eating out while traveling. 
Crumb & Coaster was suggested to us by one of my close friends. He was watching my Insta-stories and sent me a lengthy list. I picked Crumb & Coaster and we ended up going there for lunch and back again for brunch on a separate occasion. Their seafood dishes are to die for!
LIFESTYLE
Bali for us was really all about the beach clubs and the cool, modern places in a different setting to home so we were very happy to find the prettiest beach as well as some beach clubs that catered to our needs like cool music, shisha and yummy cocktails.
Padang Padang Beach in Uluwatu which is about an hour away from Legian where we were staying is one of the most breathtaking beaches I've ever been to. There's an entrance fee of about R10, you walk down a semi-creepy cave, and onto white sands and the water most crystal clear, blue water i have ever seen! There are a few vendors on the beach hiring out umbrellas, and selling food and drink. You do want to make sure that you have enough supplies for the day so that you can spend your whole morning/afternoon catching a tan, a nap and a swim! You won't want to leave!
Potato Head, unlike most of the many other beach clubs in Bali was the most reasonable and customer friendly beach club that we went to. They had amazing pools, fresh food and drink and plenty space to sit, relax and enjoy the afternoon sun. With a minimal spend of about R600, you can relax on their day beds, but you would have to arrive as they open as those get filled up so fast. At the other day clubs that we went to, there were entrance fees and all of the nice spots were reserved which really is pointless then to even be there if you aren't able to find a spot right next to the water. 
Motel Mexiocla is one of the really Instagram famous spots that everyone goes to while in Bali because of the cool set up. The neon lights and brightly colour cushions make for the perfect shot for the gram. I was very overwhelmed with how big the space was one we got inside and most of the places we had been to were quite small but apparently it turns into a massive party hangout in the evenings. I was very disappointed at how poor their service was though. we waited very long to be served and the staff made us feel like we were an inconvenience when we started taking pictures around the restaurant.
La Plancha was found by accident after having dinner at Kuali restaurant. We took a walk down that street and got distracted by the huge, colourful bean bags. With live performances and the sound of the waves crashing in the background, it's a perfect set up for light night drinks just to wind down after a long day. We ordered and shisha, enjoyed the tunes and were lucky enough to catch fireworks in the distance. How amazing? 
For those who are planning on traveling to Bali soon, If you can afford it, try to stay for a good two weeks. There is so much to see and do in Bali that you end up cramping all of the activities, eating and drinking in just a few days which isn't fun as you aren't really allowing yourself to rest, reflect and enjoy time spent as you are trying to do as much as possible in a short space of time.
I would actually suggest staying in Bali moving around the island and staying in the various hotspots during your 10-14 day stay: Ubud, Seminyak, Canggu and Uluwatu. It's all so worth it and was really the most amazing experience of my life. I literally cannot wait to go back!
Take a peak at my vlog on my Youtube channel to see more of my trip!