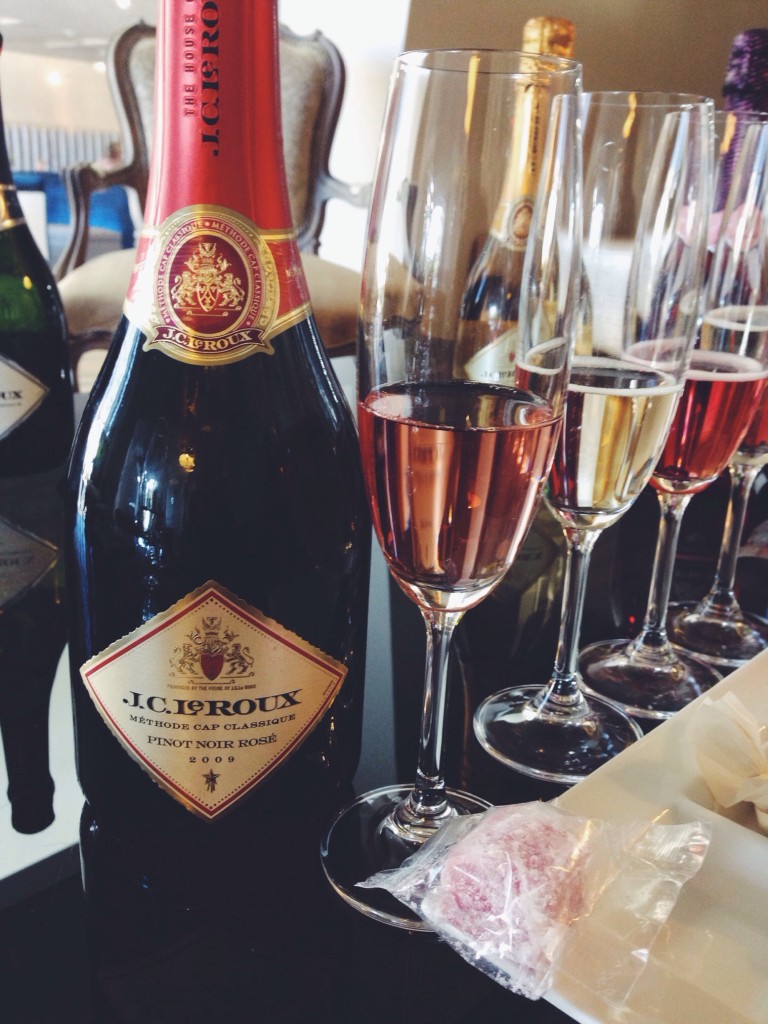 I am currently sitting in on a group assignment session with a few classmates of mine, and I'm finding it a little hard to concentrate on the work at hand. It's a gloomy Sunday afternoon and I would much rather be lying in my warm bed, cuddled up with a book. Everything about this day is taking my mind back the warmer months that have officially left the building, so I thought I would tell you about a little fun adventure I went out on earlier this year. A very good family friend of mine, Tshepang Molisana of Taste & See, invited me to accompany her on a little road trip to Stellenbosch for a wine pairing tasting at the JC Le Roux wine farm. I had literally been there the weekend before with a bunch of my mates but did not get the opportunity to stick around because someone forgot to actually make a booking for us to taste the sparkling wine.
Luckily for me, Tshepi was giving me a second chance! On a warm and beautiful Saturday afternoon we drove to the JC Le Roux wine farm which is located on the JC Le Roux's original family estate formerly known as Stellenvale. The wine  tasting that were invited to was specially designed for the Easter month so our wine pairing experience was done so with bubbly and nougat. The wine pairing also offered a non-alcoholic sparkling wine selection (La Fleurette Non-Alcoholic and Le Domaine Non-Alcoholic) paired with a yummy fudge package. Our tasting took place in the lovely La Vallee tasting area, a private room decorated in a rich golden colour scheme which sort of made me feel like royalty.
Our host for the day, Ash, carefully guided us through the onsite walking tour through the tasting explaining the process of how each sparkling wine is made and why it tastes and looks the way it does. Tshepang and I had a marvellous time being treated like gold and indulging in delicious treats and pink & gold sparkling wine.
I would definitely suggest that on one of the last warm Capetonian days, before winter hits us full force, you take a trip for a little sip!
xo
Twiggy Moli
Tasting Prices (valid until June 2015)
Methode Cap Classique Tasting – R50.00
Mixed Tasting – R40.00
Nougat Pairing – R85.00
Marshmallow & Meringue Pairing – R65.00
Non Alcoholic & Fudge Experience – R50.00