As most of you would have noticed by now with the revamp of my blog, Sedi and I have decided to part ways as  blog partners. This does not mean, in anyyyy way, that we are no longer each others partner in crime and sisters. We have both always had a keen interest in food, travel and wine but never found ways to explore this passion. So we came up with a new blog series that would allow both of us to still document our personal experiences for our own perspective platforms and still get to hangout.
With this came the inception of 'Out Of Office with Twiggy & Sedi'. This series would mean we get to explore some hidden gems around South Africa, giving our individual readers clear and concise reviews of places they can visit without necessarily having to leave the country. Sedi now lives in Cape Town and I live in Johannesburg so we have decided to explore spots around these two major cities and hopefully with the success of these trips, we get to venture out into other parts of South Africa, gradually reaching spaces in the rest of Africa.
Kicking off our new blog series on our respective blogs, Sedi and I decided to visit Spier Wine Estate. A brand we've known and loved (through my mom) since we were teens, it only made sense to begin our journey there. My last big campaign was with them so it only made sense for us to go there first. The Spier team was gracious enough to believe in our idea of the partnered blog series and host us for two days to explore the farm and all it's offerings.
I packed my bags and headed to Cape Town to meet Sedi. From there we took a quick 45 minute drive to Spier to kick-start our two days on the farm. Upon arrival we were greeted with a glass of wine to get us in the mood. We were obviously excited for this, as I have mentioned before in my #spiermyway post, Spier is a brand that I have been familiar through the love that Mama Moli has always had for years. We dropped off our bags in our cute room and went straight to do a Chocolate & Wine pairing.
Chocolate & Wine Pairing at the Spier Wine Tasting Centre
Wine tasting is always a treat and the best way to try out a new range of wines that you may not be familiar with so we always opt for a pairing to explore different tastes. With my love for chocolate, this was right up my alley.
Chocolate and wine tasting at the Spier Tasting Centre will cost you R70 per person. It inspired by the Spier Signature Méthode Cap Classique and the Spier Creative Block blends, these are my actual fav wines in the Spier red wine range. The chocolatier has carefully crafted chocolates that complement and unlock nuanced flavours in each of our liquid treasures.
Other tasting on offer at the wine tasting centre include tasting the premium Spier flagship wines, a children's grape juice tasting of three different grape juices and an educational activity sheet highlighting the role insects play in our vineyards. and a seasonal spring tasting. Once your tasting is done, you are welcome to purchase at cellar door prices, I would 100% recommend purchasing the 21 Gabbles. An absolute fav!
Bookings need to be made and confirmed at least 48 hours in advance.
Spier Hotel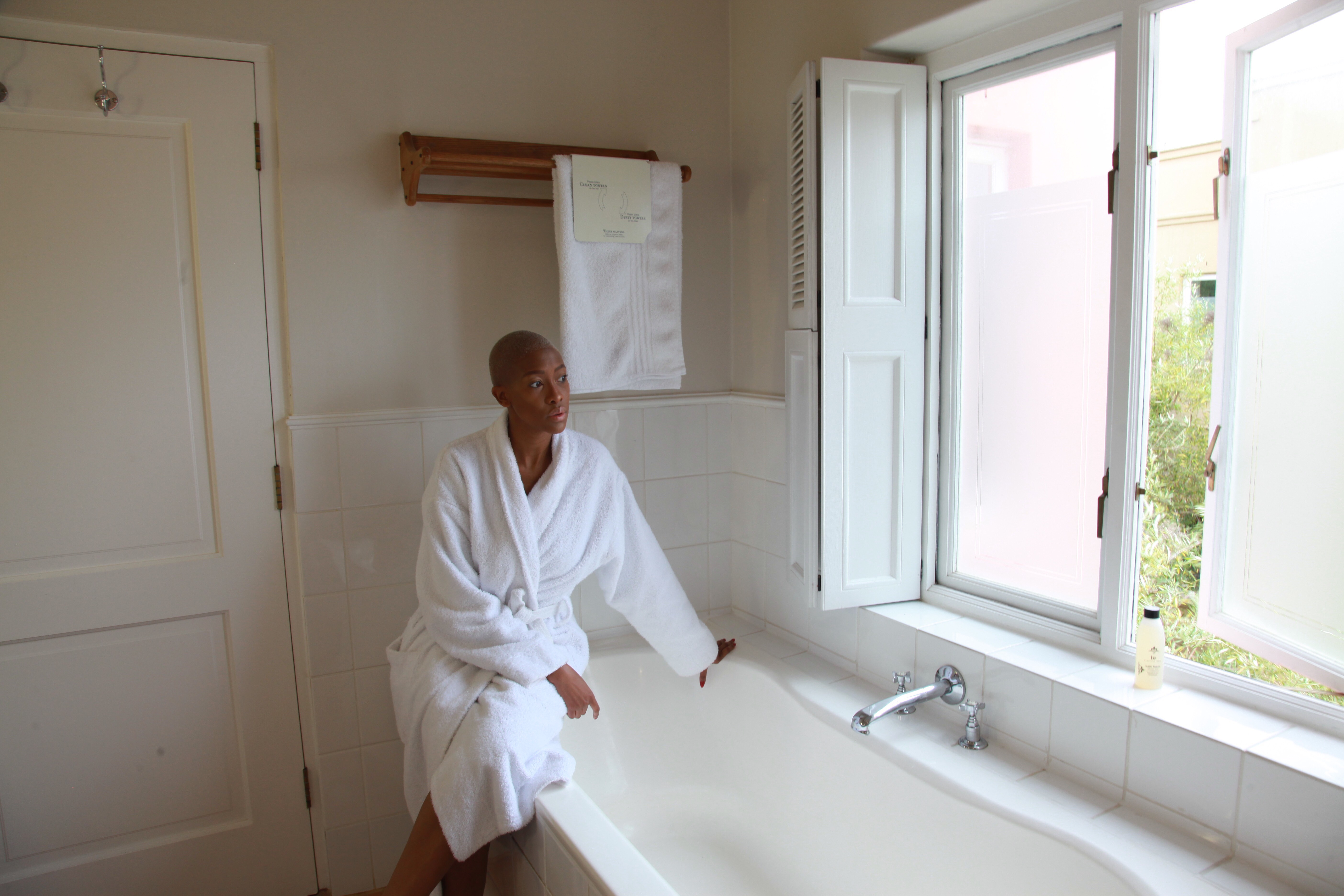 With visiting a lovely wine farm, a great room is very important as you spend quite a bit of time there napping after the full meals and long wine tasting sessions. Spier Hotel has 6 courtyards, we were transported in a golf cart to our room which was soon cute as we got to drive down the quiet little streets of Spier. Our double room was one the Garden Terrace rooms that had access to the pool and a cool leafy patio. It's unfortunately that the weather was very gloomy during our stay so we didn't get to enjoy much time in the sun.
Red is one of my favourite colours so it was nice to see it incorporated in the interior. The bathroom has great lighting that I took advantage of by shooting some of my beauty products a bath and shower, with the recent water crisis, Spier has ensure that guests are aware of the crisis and opt for a water-wise shower instead of making use of the very large bath tub.
Personally, there are two things that make me want to rejoice when I walk into a hotel room for the first time – space and fast wifi and the Spier Hotel got these two things right! I'm literally only crazy about having a space if I am sharing with someone otherwise I'm not so finicky. Fast, free wifi is an absolute must to connect with the outside world while I'm away, work and obviously ,make sure that I am still popping on the gram! The wifi was so good, Sedi stayed up till 3am on both nights during our stay while I sank into the soft pillows and enjoyed a good 8 hours sleep that I had been yearning for.
Lunch at Hoghouse
Our itinerary was planned to a tee and included the chocolate and wine pairing mentioned before, lunch at Hoghouse BBQ & Bakery, a Segway Tour and an indoor picnic. We tried to check off most of what was on our list but we bumped into two of our close friends so most of our plans switched up.
We literary ate our way through the second day on the farm starting off with a long, boozy brunch at Eight were I fell in love with asparagus followed by lunch at Hoghouse BBQ & Bakery.  Fun fact:  asparagus are only grown every 10 to 15 years. We were fortunate enough to eat from the first harvest. This was my first time eating asparagus and it was absolutely delicious; light and buttery!
The Hoghouse BBQ & Bakery in Spier's historical Jonkershuis. Patrons can dine on the front stoep overlooking Spier's sun-dappled Werf or can sit on the all-weather terrace at the back, where "The Hog" smokes meats the low-and slow way for up to 16 hours. From here they can also watch the baker pulling breads out of the wood-fired masonry oven, or conjuring up delicious treats, including the house specialty, pasteis de nata. On chilly days, blazing log fires keep things snug inside.
The  barbeque-focused lunch spread that we enjoyed includes flavoursome grass-fed beef, pork, lamb and free-roaming chicken supplied by Spier's Farmer Angus. Accompanied by tasty sides – such as roasted beetroot or cheese-drenched broccoli – the meats are perfectly paired with Spier wine or Hoghouse's craft ales but we opted for refreshing cocktails instead. I don't know where we found space in our tummies for dessert but we had to try their selection of pastries which included cheesecake, carrot cake, a custard tart and macaroon.
Hoghouse is open seven days a week and as any other lavish place I've mentioned, booking is essential!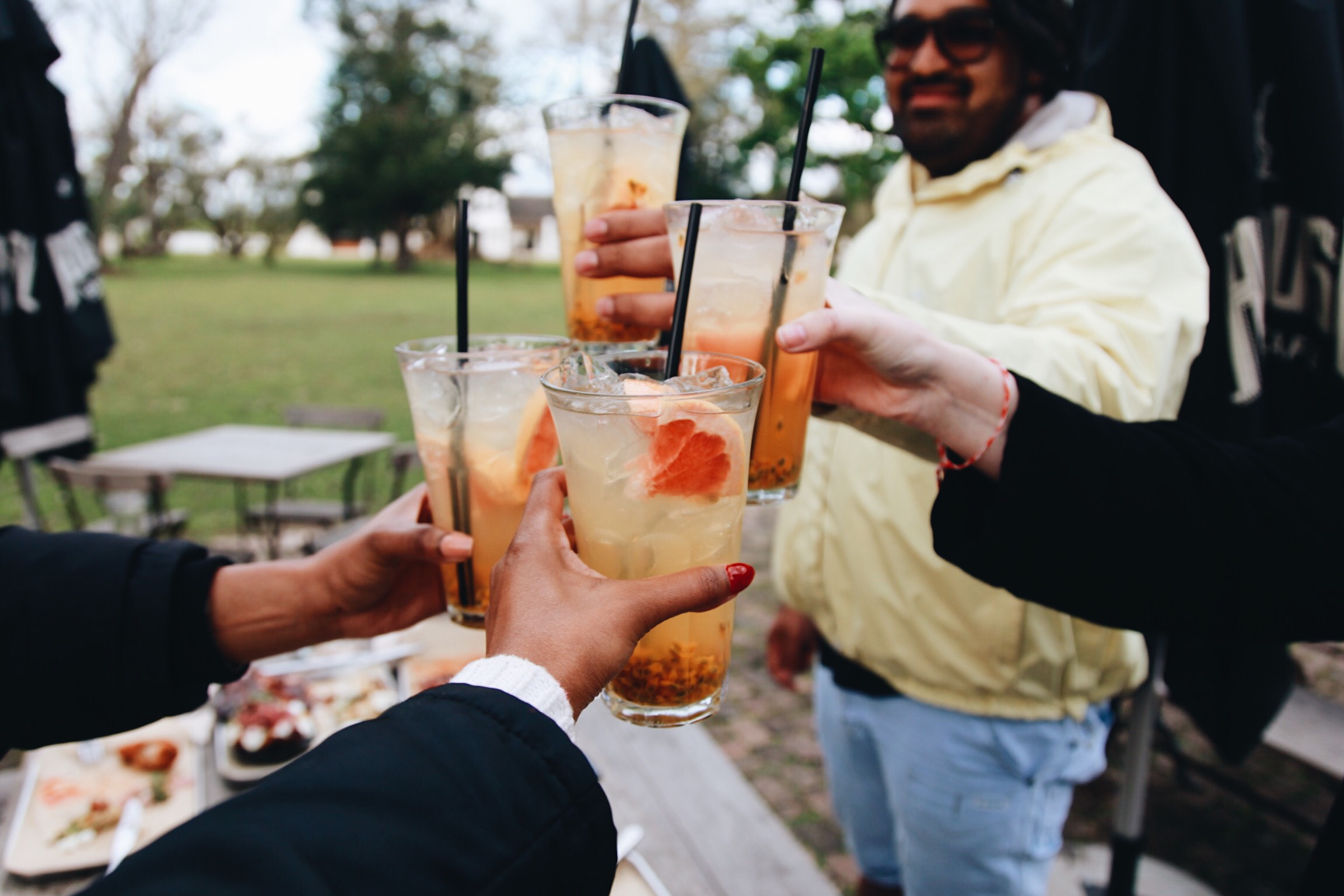 The Tree-preuneurs Project
In between eating and drinking, we took a quick trip to the other side of the farm to check out the Tree-preneurs project. This project is aimed at empowering the Cape's poorest communities by enabling them to make money by growing indigenous trees and plants.They are given seedlings to nurture; once these have reached 30cm, they can be exchanged for vouchers for food, clothing, agricultural goods, tools, bicycles and educational support.
Lesley, the driving force behind this amazing project told us that over 16 000 trees and plants are planted in recycled containers in the space provided on the Spier Farm. A few that we spotted on site that caught my attention were plants and curbs growing through a pair of Levi's jeans. So special for me. An amazing thing I learnt while being taken through this space was that water usage was at ZERO since May, this is incredible especially with the recent water crisis in the Cape. Instead buckets and contains are used to save water which can then be re-used to water the plants.
We actually learnt a lot about trees and plants which was quite a change in terms of the usual subject matter we engage with. Did you know: Coffee is a good fertilizer for acidic plans? and also Spekboom is good for oxygen?
Great things to know when purchasing plants for your home.
Tree-preneurs isn't just uplifting the communities in which it operates: through key collaborations, its efforts are having a far-reaching impact on the health of Stellenbosch's environment. Western Cape Tree-preneurs have grown 25,000 indigenous trees since the project began in the province. 10,000 of these have been donated to the Stellenbosch municipality's Million Trees initiative. These have been planted in disadvantaged areas of Stellenbosch in need of greening such as Cloetesville, while riverine species have been planted as part of the Plankenbrug's regeneration.
Our 48 hours at Spier Farm was a delight. To keep up with our Out of Office adventures be sure to search our tag #OOOwTwiggyandSedi on social media. It would be lovely to know which other places you guys think we should visit. Leave me a comment below and we'll make a plan to get there and write you an honest review!