This year has definitely been a great one when it comes to being invited to blogger trips. July's trip involved a bunch of food and travel writers and myself and The Palace of the Lost City.
I was very disappointed that I wasn't allowed to bring a photographer on the trip and to top it off, I had forgotten to pack a camera of my own so my iPhone 7 had to do. At 11am, a group of 15 anxious lifestyle bloggers, editors and writers waited in the conference room at The Maslow; waiting to be ushered on to the bus that would be taking us to Sun City for our one night experience at The Palace of The Lost City. A short bus ride later on a sunny Thursday afternoon, we finally arrived at The Palace.
We all rushed off the bus and pulled out our cameras and phones to take the photo that would be announcing our arrival at The Palace on social media for all of our followers to see. It is quite hilarious seeing everyone trying to get their perfect shot; this group wasn't too concerned about aesthetics so it took everyone less than 5 minutes to frame and post their images and off we went to tick off the first activity on our itinerary, lunch! We were sent straight to Plume restaurant for a delightful 3 course lunch. After that drive, I was starving and dusted.
Plume Restaurant
Starter
Main Meal 
Dessert
Because we were running a little behind schedule, we didn't have time to check into our rooms just yet, instead we were rushed off for spa treatments at the Gary Player Health Spa, I was not complaining. We were each treated to a body massage of choice, I was dying to get to my room so I settled for a head, hand and foot massage. I didn't know I needed a hand massage until I got one. Recently I have been noticing extreme pain through my right hand and shoulder, that massage really relieved the pain – must be from all the texting – it is literally impossible to stay off my phone for more than 30 minutes. Terrible.
What I really loved about The Palace more than anything, was the detail in every corner. I got lost, several times, trying to get to my room. It was funny at first till it really wasn't. The Palace is huge and quiet during the week, so I genuinely panicked a little before spotting Room Service staff who happily assisted me to my room. I got lost on my way to dinner, exploring and the next day again before check out. My room was really spacious but a little too dark for my liking. I hate having to keep my room lights on even during the day, however, I didn't really spend much time in it. I only have a few minutes to freshen up before it was time for cocktails at The Tusk Bar before dinner was served at The Grill Room.
Cocktails was actually bottomless champagne which turned out to be the perfect ice breaker for the group. Soon, we were ushered to The Grill Room for dinner. The drinks continued to flow and the room was quickly filled with lots of chatter and laughter, we eventually started opening up nicely to each other. It was kind of a mind – fuck how most of the group couldn't believe that I was a full-time blogger at such a young age and that my following was so high. They should meet my friends, they would fall over.
Anyway dinner was incredible. I am such a sucker for a great steak paired with a good glass of red. Soon it was bedtime for me. Fortunately for us, breakfast and check out weren't too early so we were afforded the chance to sleep in and only roll out of bed at 10 am for breakie. Now, I had no idea that The Palace was known for having the best breakfast spreads. I woke up with a slight hangover but could not turn down the mimosa served upon entry of The Crystal Court. I was literally blown away and was actually left a little confused as to where to start with breakfast so I had a little bit of everything. I sat down and sampled the little bit of everything that I had selected and enjoyed my mimosa with everything. Delightful! That was probably one of the best solo breakfasts I've ever had.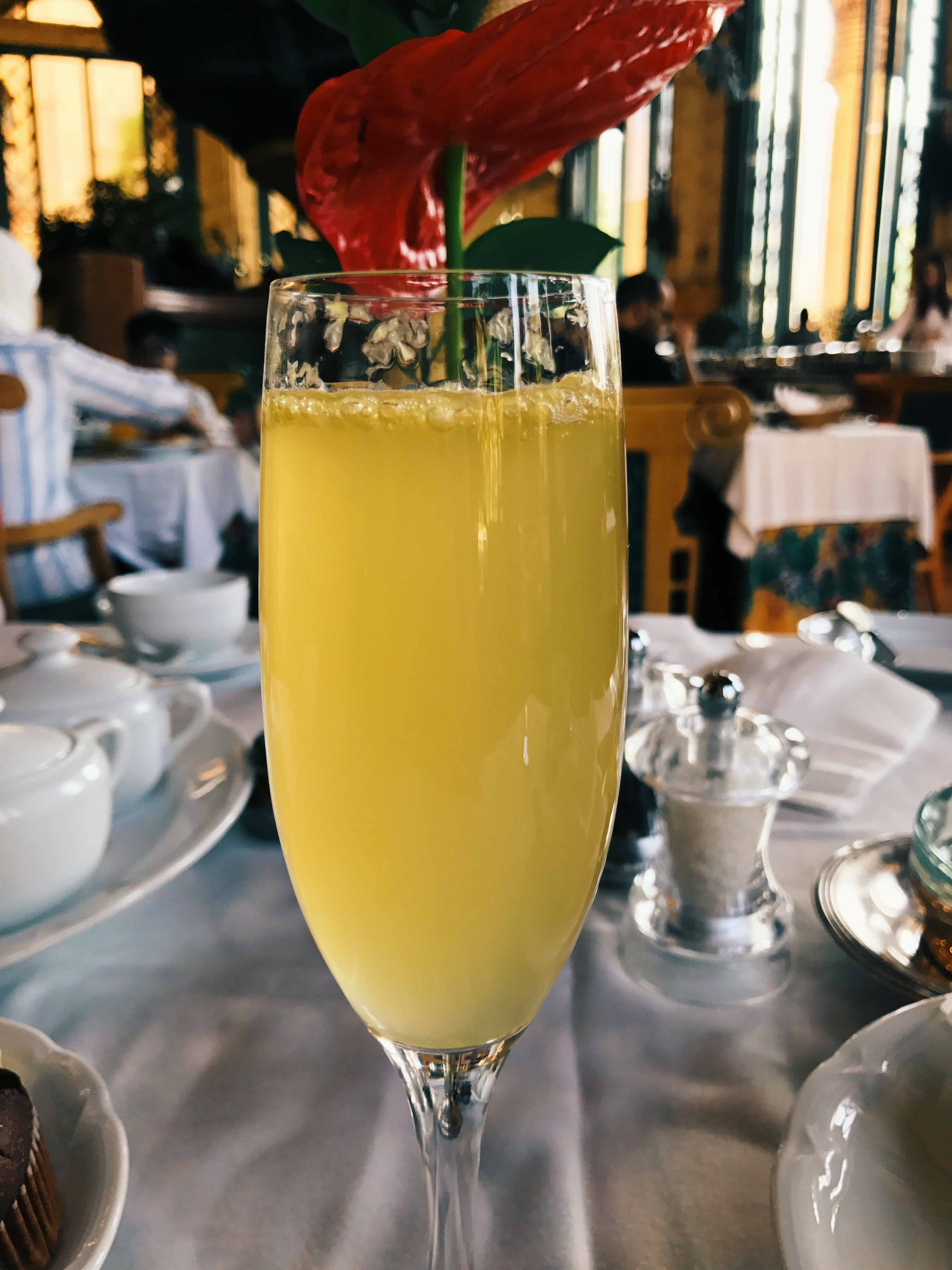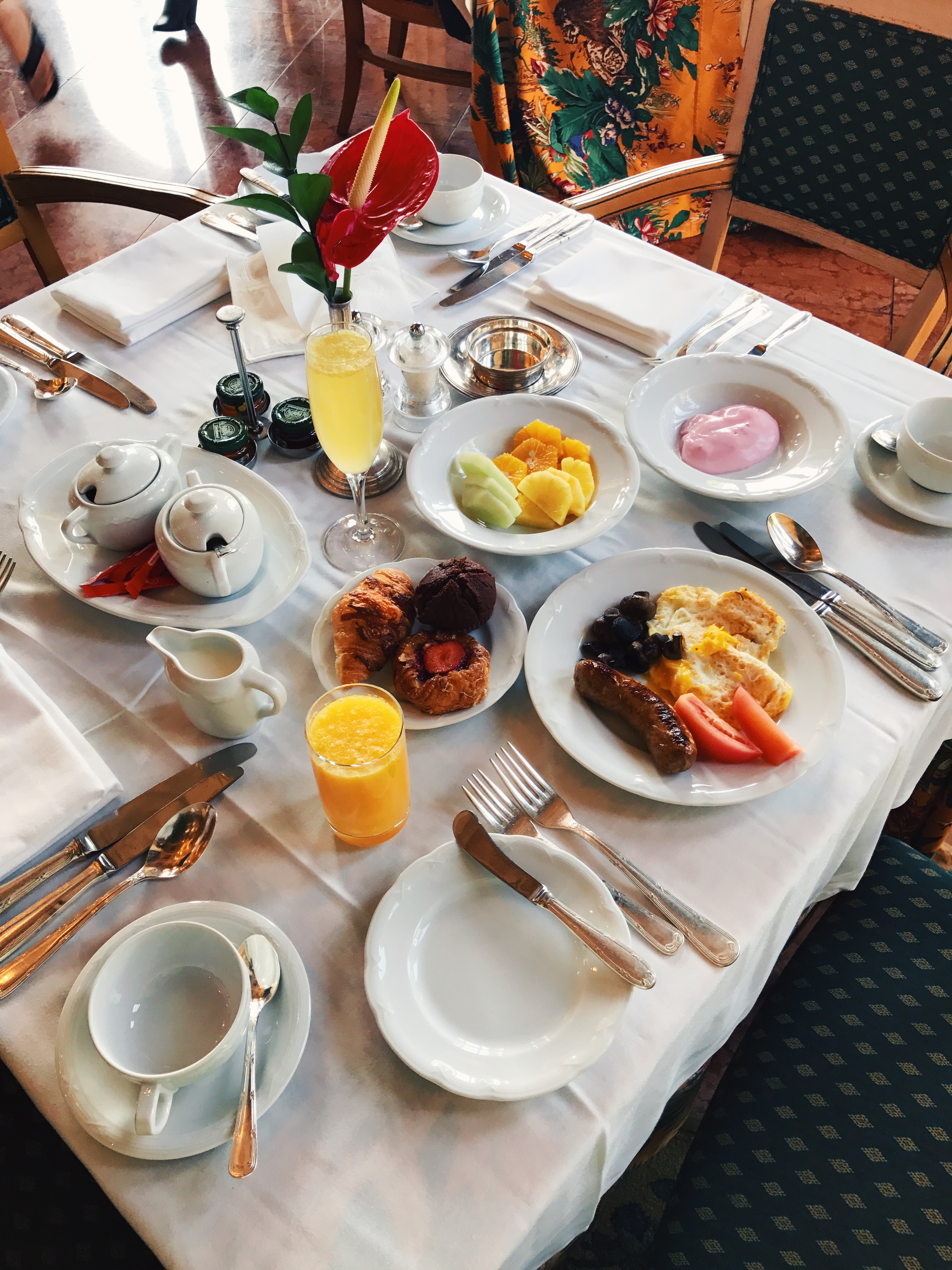 I basically needed to be rolled back to my room once I was done with breakfast. I was full, happy and ready to head back to Johannesburg. What a treat it was, a night at The Palace. I headed back to my room to pack up, said my goodbyes, got onto the bus and back to Joburg it was for us.
While The Palace still seems to be under renovations, I do plan on returning with my gal pals and a photographer this time. The photos in this post do not do the place any justice. I am quite excited to see what other renovations will be taking place around Sun City in general.