A night out isn't really a night out without a food run before heading home to make sure that you don't wake up with a hangover from hell. It's part of the culture. If you're partying in Sandton, Andiccio is the go to spot which sort of turn into an after party if we're being honest with ourselves or good ol' Mickey Ds if you want to avoid getting sucked into spending another 2 hours with the same faces you just spent the whole night getting drunk with.
After a long night of partying earlier this year in Cape Town, I insisted on getting food before heading back home, for some reason our usual McDonald's stop wasn't an option so we stopped at Franky's Diner in Sea Point (open 24 hours) for a bite to eat. I ordered but I didn't eat, I was too drunk. Lame.
Our second visit a few days ago on the other hand was different. Bash insisted that we try it out again, properly this time. We started off by ordering milkshakes, I was very tempted to try their adult milkshakes but something about mixing alcohol with diary made me feel queasy so I settled on a Bar One milkshake while Bash tried the  Turkish Delight. Yum. They're nice enough to offer you extra shake to refill your glass if you want more which I found odd but cool if you're really into your milkshake, want more but obviously can't stomach a whole  new one.  We then each ordered the Franky's cheese burger, I added bacon and jalapeño to my order. All burger meals come with  a side of onion rings, fries and a small bowl of coleslaw, you can order different sides but that comes at an extra charge I'm assuming.
Our meals were super filling, I'm not sure if either of us actually finished everything, Bash struggled to move for a good 20 minutes after eating. Although the burgers were quite average, the overall experience made it worth the painfully full tummy and itis that hit us almost instantly. We went on a Tuesday night so we pretty much had the diner to ourselves, I imagine ti gets a bit busier on the weekends? We had excellent service from our waitress Memory who insisted on taking a photo of us for the Franky's Diner Facebook page which I was totally impressed by, a staff member that knows the importance of social media lol.  Another special feature is definitely the jukebox that churns out 50s-80s music throughout the night. I caught myself singing out loud to many of the songs during dinner.
We had a really carefree time pigging out in peace and would definitely recommend everyone to visit Franky's at least once for the diner experience. There are a few other items on the menu that I would like to try, like the American Corn Dog, Mac & Cheese and the Southern Fried Chicken Wing Basket. I'll definitely go back for the milkshake.
Franky's Diner
303 Main Road
Sea Point,Cape Town
Telephone : 021 433 0445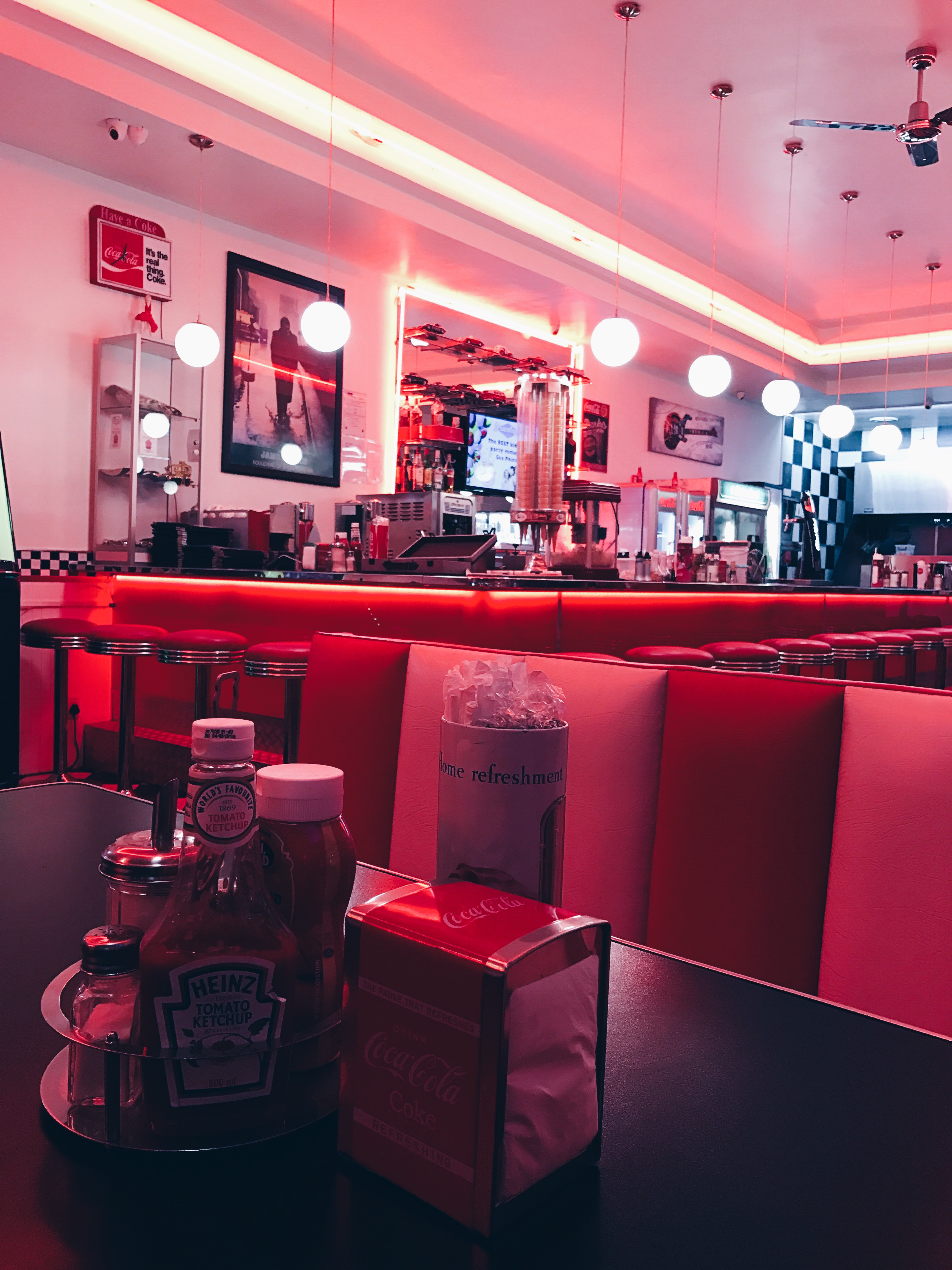 Anyone else tried Franky's? What did you think?