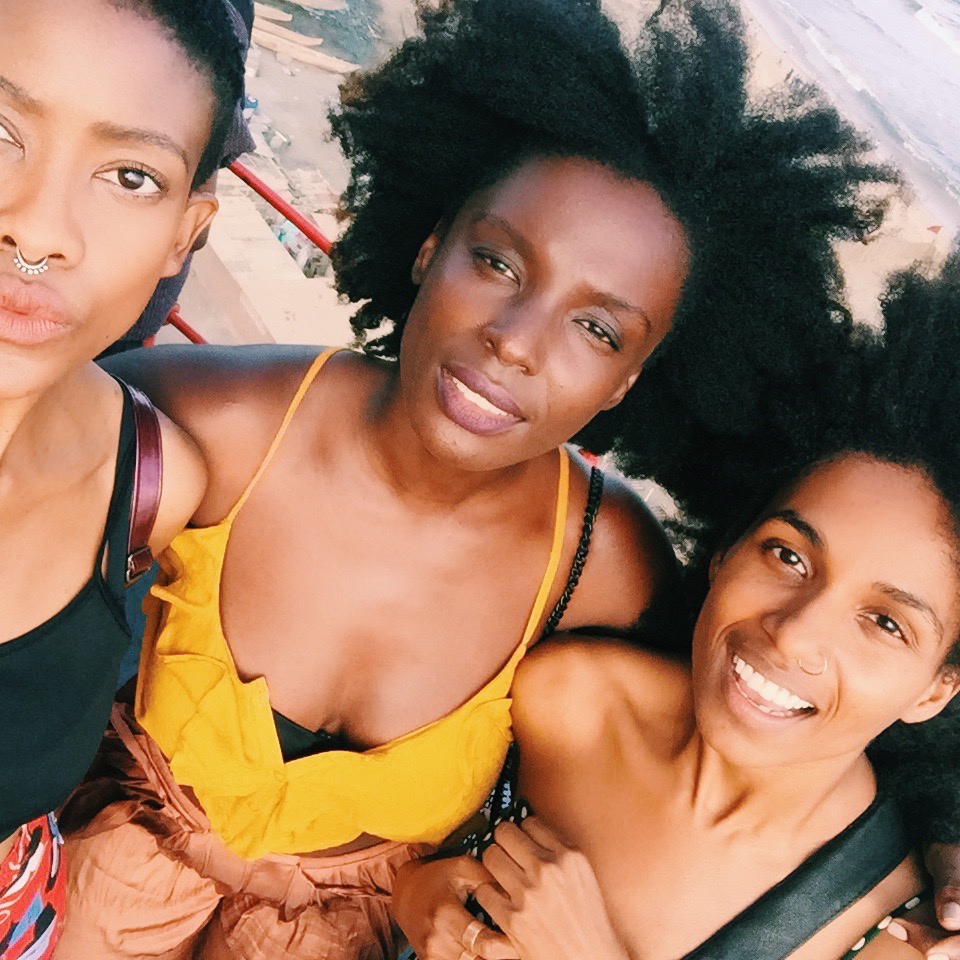 One of the highlights of our trip definitely is attending the Chale Wote Street Art Festival. A festival that we had not necessarily been familiar with before our trip to Ghana.
This festival is an alternative platform that brings music, art, dance and performance, nothing like what we have ever seen or experienced before in South Africa. We were truly not prepared for the chaos and excitement that we found on the streets of Jamestown.
This art festival breaks creative boundaries by allowing its artists to express their work in mind-blowing ways. Walking around and feeding our eyes to what the Ghana creatives brought this year, we couldn't help by being thrown off to a few random acts of public art like the Royal Rat that we being paraded on the streets to name a few.
Twiggy faced her fear of heights by joining the group on going up the lighthouse to see the whole of Jamestown. Walking up the narrow, winding stairs, we all couldn't help but be a little shook by the wild winds that we found once we reached the top. The view of Jamestown is truly remarkable and sent chills down everyone's spines.
To make our trip that more exciting, we decided to travel to the North to check out creative women's village and the soon to be opened Zaina Lodge, a luxury ecolodge situated in Mole National Park in Northern Ghana. After a short flight and a very long drive, we finally arrived at Zaina Lodge. Driving through Tamale was incredible, we noticed how 80% of the native were either on motorbikes or bicycles.
We arrived at Zaina and our short day consisted of a game drive and an evening of cocktail tasting their cocktail menu. We were among the firsts to be visiting and experiencing Zaina Lodge before it's much anticipated launch coming up at the end of the year. Safari's and game lodges not being a new experience to Sedi and I, we were very intrigued as to how these went down in Ghana. Allowing visitors to roam the grounds while on these drives was one thing that nearly made us fall over. The definition of " living life on the edge" was defined while we were on our search for the real Bambi, Dumbo, Timone and Pumba.
After our game drive we freshened up and got ready for dinner and cocktails. If there is something we South Africans can learn from Ghanaians, it's how to make a mean cocktail. With their extensive range of tropical fruit and liquors, we could not believe how great each cocktail we drank was, not only at Zaina Lodge but at every food establishment that we visited in Ghana during our stay.
The cocktail of the trip was the Pepino – a fusion of cucumber, lime and mint. We asked the liquid chef at the Chale Wote Festival after party hosted by Tstmkrs Africa at Burger & Relish to give us his secret recipe which we can't wait to share on the blog soon using our new favorite liquor, Cointreau.
Our trip to Ghana was truly a memorable one. A first and definitely not the last. We hope we are blessed with more opportunities to explore Africa, experiencing other cultures and customs and travel further than we could have ever imagined. Being away from home and around individuals from completely different backgrounds to ours taught us to be more open and willing to experience life outside of our comfort zones and be able to actually detach ourselves from our mobile devices and experience the rare surrounding that we found ourselves in.
Till the next trip!
xo
Moli & Ramone