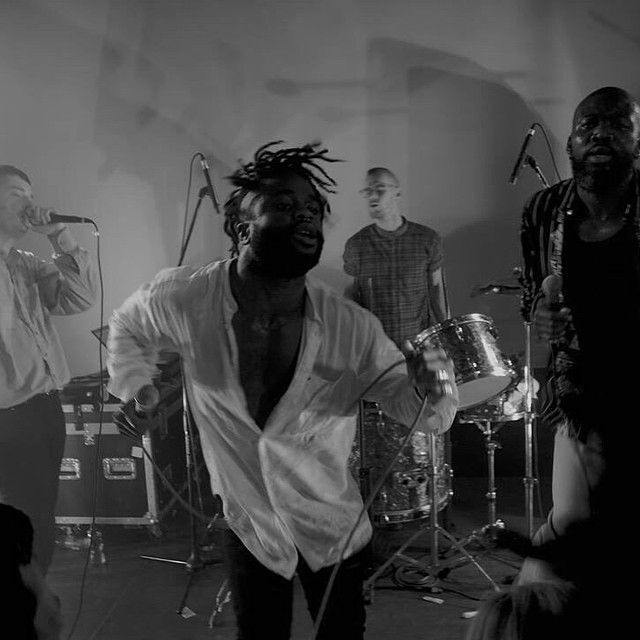 We headed out to King Kong last Friday to catch Young Fathers in action for the Joburg leg of their SA Tour.
It's difficult to describe the sound of Edinburgh-based trio because the guys are an archetype of what 'alternative' music truly is. Inspired by 70s punk and Shangaan electro, they have managed to create an eclectic sound with these contrasting influences.
We're pretty sure this is what swayed the judges to award them the 2014 Mercury Music Prize against the likes of FKA Twigs. So you can imagine how we felt when we heard they were coming to SA. Admittedly, we have not always been their biggest fans but seeing them perform live sparked some new playlist favourites.
"I Heard" and "Get Up" had us swaying and bouncing off the walls all at the same time; their music is a trip! But their performance of "War" featuring LAW (who The Guardian describes as being 'universally appealing as Marmite LOL) is what really got the crowd going. The guys have the most incredible stage presence and they are extremely humble.
As amazing as Young Fathers was, our ears were pretty spoilt for choice with the likes of Card on Spokes, BoyznBucks and Mashayabuque KaMamba on stage. So be sure you're front and center next time WeHeartBeat throw a party because they know how to do it right!
xo
Moli and Ramone
photo credit: Refiloe Motloung
(she not only took fab photos on our behalf, she also introduced us to Alloy, one of the band members!)