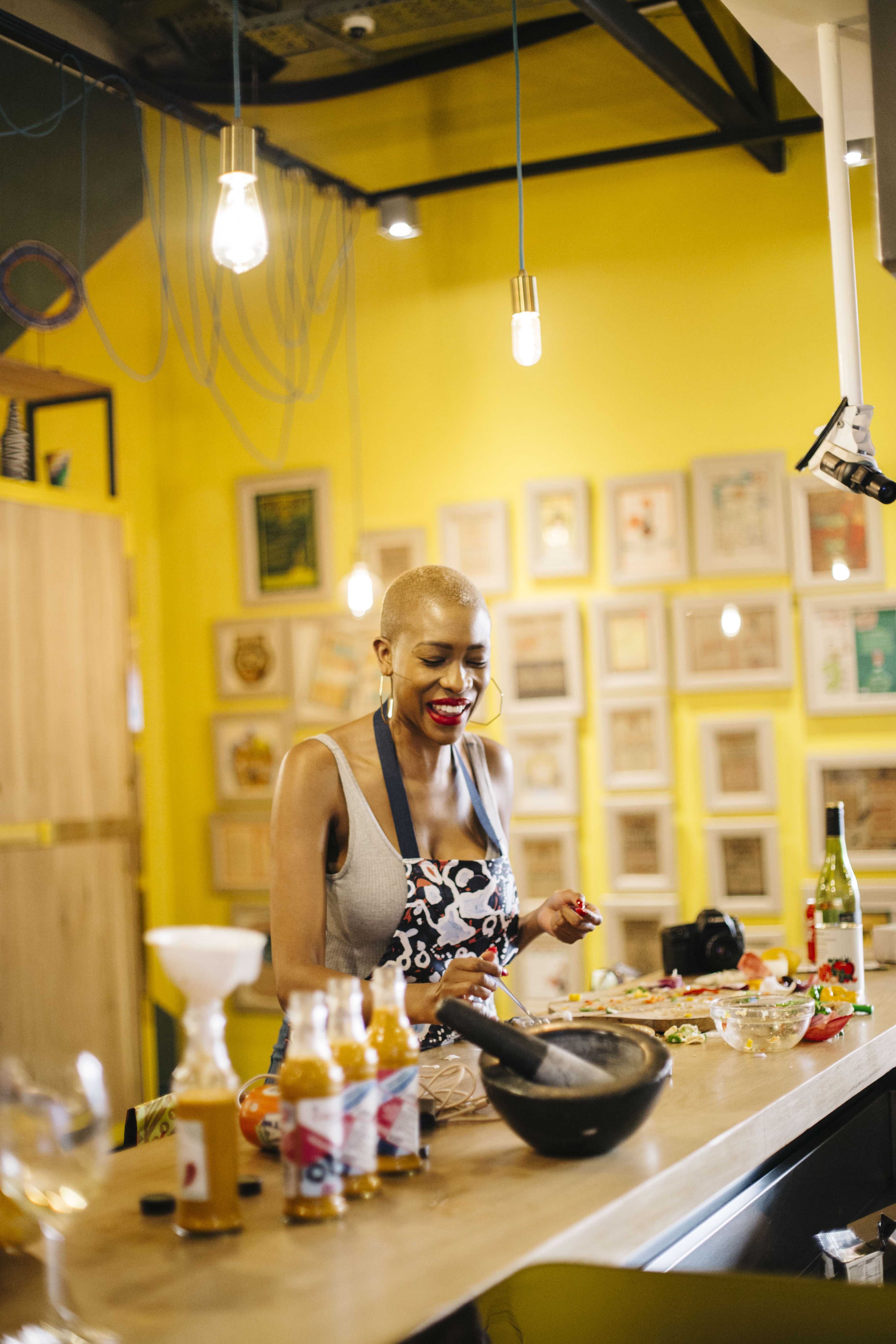 The other day, okay maybe a few weeks ago, I had the pleasure of exploring the official headquarters of one of my fav local brands ever. EVER.
Nando's and Between 10 & 5 invited us to the Nando's Central Kitchen in Lorentzville. I had no idea that this was where the Nando's head office and original factory kitchen was. It was a pleasant surprise to hear that the original kitchen had now been turned into the official headquarters for the Portuguese-style Peri-Peri chicken that we all love. If I got a Rand for every 'Quarter chicken with extra sauce' meal I purchase every week, Nando's would actually make me one of their ambassadors; I literally just polished a plate of a lemon & herb quarter leg with a flame-grilled mieilie for dins.
The local, turned global brand has an unwavering support of local art and this can be seen throughout their headquarters as well as in their restaurants, which I love. Nando's has become that food spot where you actually don't mind sitting down to enjoy your meal rather than ordering a take-away and dashing off. The restaurants are aesthetically pleasing, remaining true to the Nando's brand and its origins throughout.
I'm kind of over attending boring media events where all we do is drink free champagne and eat tasteless canapés but if your fav food brand invites you to learn more about them and their projects, you put on your best face and show up. The invite said "You'll be spending the day artistically inspired before ending off with a saucy surprise", and that's exactly how our day went.
We spent the first half of the day playing art bingo – exploring the headquarters, spotting all the art pieces in the space and learning about their Global Art Initiative which dates back to 2011. Nando's have since invested over R70 million on original art pieces by local artists that can be found in their restaurants around the world and offices. This basically means that Nando's actually has the largest collection of African contemporary art IN THE WORLD.
After playing bingo and learning more about the Central Kitchen, we had lunch on of the rooftop terrace and had a chance to mingle. CK (Central Kitchen) as it's known to everyone at Nando's HQ has an art gallery, art studio, Peri-Peri chilli garden, a gym, gift store, bar and its own radio station. Once we had filled our tummies with Nando's obvs, we moved onto the saucy surprise. We were ushered off the Test Kitchen to meet two prestigious gentlemen who have been part of the Nando's family to close to 30 years to learn how to make our own glorious Peri-Peri sauce! We were given the EXACT ingredients that are used in the original sauces and were put to the test, things really did heat up in the kitchen! We teamed up and had so much fun strategising, testing and tasting each other's sauces, what an incredible way to engage with a brand!
This was an unforgettable experience! I got to learn more about a brand that's already part of my everyday life. What made me love Nando's more than anything is their continuous love in the arts and their development projects of local artists, something that many people probably don't know.
I can't wait to visit a Nando's restaurant to see if I can spot any art!