"Are you here for vibes or for work?" Khuli Chana asked just as he jumped off stage after a quick 5 minute rehearsal at the Durban ICC the night before the big show.  10 minutes was all it took for him to go through his rehearsal, when you're an OG like him, you know how to make these long and tiresome rehearsals pain-free for everyone involved.
When my good friend, Siya Beyile founder of The Threaded Man, who also happened to be the Fashion Director of the entire show (he's as old as the show, crazy right?) invited me to be a part of his creative team for the SAMA awards, I thought he was joking. Until I found flight and accommodation details in my mailbox. I couldn't help but imagine how the week would be, naturally I came up with crazy scenarios in my head of how my week in Durban would be. Nothing I imagined came close to what I experienced.
"What exactly are you doing here because it doesn't seem like much." Riky Rick threw some shade at me after his fitting. Of course I was a little distracted as the tatted up rapper stood topless in the fitting room while we finalised his performance looks, so it really looked like I was just standing around doing nothing. Many people were confused as to what I was doing there exactly because for a good portion of the week, it looked like I was there to look pretty and flex on my Snapchat about my backstage access to one of the biggest award shows in the country while everyone else continued with their boring lives back in Johannesburg. In all honesty, for the first few days there, keeping Siya company, taking notes and assisting him with making final decisions on performance looks formed part of my best friend duties.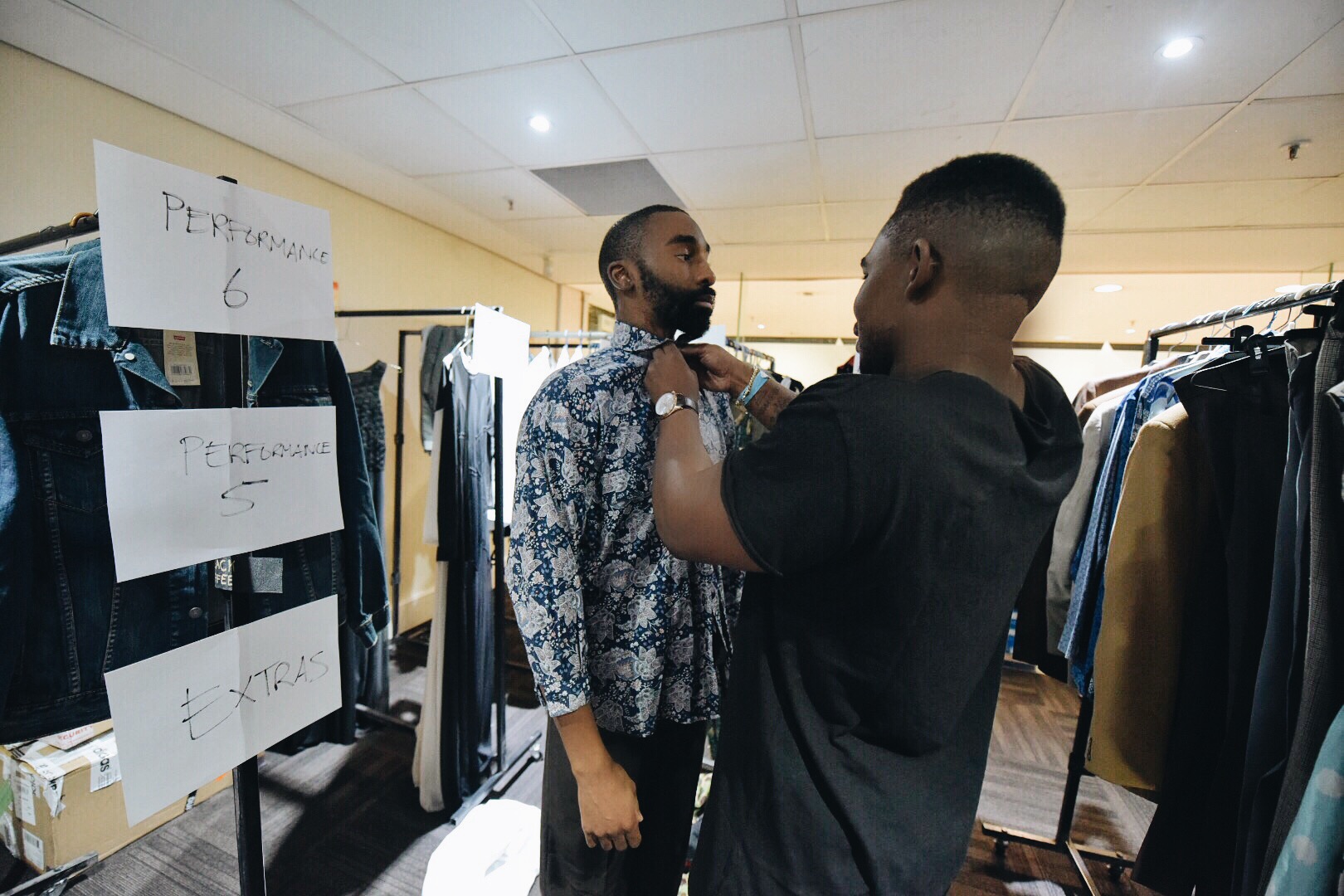 Rehearsals & Performances
The dancers have an addictive energy that we all just fed off of from day 1. They're probably the most hard working performers of the entire show so to have them there cheering, making us laugh from morning till night was truly memorable.
I really love that the performances were a collaborative effort, something that most of our South African music award show ceremonies get right all the time. All of the performers and dancers rehearsed their pieces throughout the week, finalising the stressful week with a sound check, apparently there was meant to be a dress rehearsal the day before the show, but that didn't happen.
From backstage most of the performances seemed to have played out with very few glitches, considering the various elements, dancers, outfit changes in-between etc.. Anyone spot that quick 30 second change during Riky Rick's performance? How insane? Also the best performance of  the evening in my very biased opinion. The show could have ended after that, honestly.
Backstage Rush
Leading up to the big day, you can't help but get a little excited, especially when you see the red carpet being rolled out, the various stages being erected. It's exhilarating. There's a point where everything just stops, once everything has been step up, the clothing has been  steamed and moved backstage, the artists all in their hotel rooms getting ready for the red carpet and all you can do is wait. Coming back from a food run, we noticed fans starting to line up outside the Durban ICC with the hopes of seeing their favourite local celebs before the show. I think at the point everything finally seemed really REAL.
After the red carpet, things start speeding up. Dancers get queued up for their first performances, hosts run back and forth from the stage to their changing rooms. Everything happens so fast!
Personal Opinon
Now if there is something crucial that I took from my experience in Durban for the SAMAs is that what people see on television is completely different to what we see while we're physically there at the show. I don't quite think the entire production quality is translated well on television which is a problem because tv viewers seem to complain about the same things every year.
One thing that always comes up on black twitter for one will be the various outfits that the celebrities choose to show up in at the event. South Africa celebrities aren't the most stylish but I for one can say that I LOVED what I saw on the red carpet from a select few local favs. Our celebs haven't quite managed to take more risks with their looks but those who put some thought and effort in their evening looks literally looked stunning. I think a very big issue is that a lot of the looks don't photograph well and that's a pity. Celebrities do not factor outfits that will look well in person as well as in photographs. I feel like we live in a digital age and that should be almost at the top of every list when looking at the various options of what to wear on these special nights.Year after year, award ceremony after award ceremony our celebs get draaaaaged for just not nailing red carpet looks. I selecting an outfit that suits one's personal  style, something that photographs well and looks great in personal and something that makes people go "wow" is something our locals need to seriously consider for next time.
Bonang wasn't wearing anything extraordinary but she nailed red carpet glam. Riky wasn't in a traditional look but he showed off his personal style and aesthetic. Many people thought his outfit was inappropriate but in person, our jaws dropped, he looked like a damn superstar, he took the risk and it worked. He's a rapper, he's done. I think with the money and resources that most of our local celebrities have access to, they could at least try to wow us one of these days.
Overall I really enjoyed my time at the SAMAs. I think it would be safe to say that the coverage that The Threaded Man team did, gave people a different take on the SAMAs. People were more involved, interacted with us and enjoyed what we showed them. It would be really dope if entertainment corporations invested more in getting better coverage on digital platforms. Live Social Media Reporter? Hi, I am here! LOL
I really hope we can change how people feel about our local award shows. We have such talented people in the country. it shouldn't ever be a struggle. i think these were the best SAMAs in a while.
What did you guys think of the SAMAs?
xo
Twiggy
Photography: Austin Malema