Unlike a lot of my peers, I never had the opportunity to frequent Sun City during my childhood/teen years, however, in the past two years I have been lucky enough to visit the wonderful resort thrice. Better late than never right? My most recent trip was about a week ago as part of my Staycation Series (read about my last trip here). As part of this series, I really wanted to include a place that is a short drive just outside of Johannesburg and what better place to visit that Sun City?
Located in the North West Province, about a two-hour drive away from Johannesburg, Sun City Resort is very popular for being the perfect getaway spot from the hustle and bustle of the city. We were fortunate enough to arrive just a few days after the heat wave had passed yet was still super hot. I was not complaining as this was the perfect weather for me to be running around the resort in my little yellow bikini. 
During my previous visits to the resort, I was unable to even dip a toe into the pools on the resort so this time around I made an effort to pack a cute bikini and take the time I visit the pools. Bash and I stayed in a very spacious room at the Cascades, a very beautiful hotel with  private pools, bars and restaurant for residents staying at the resort.
What I really do love and appreciate about Sun City is that there is accommodation and facilities that are available to suit everyone's pockets and needs. If you are looking at really taking advantage of the more affordable or self-catering accommodation options but want to take part in the activities on site then you can look at the entry-level spots at Soho or get away from the crowds by staying at the self-catering flats. If you are however looking at really taking some time out to relax and want to spend most of your time in your hotel room then rooms and facilities at The Palace or The Cascades are absolutely perfect.
Things To Do
Lounge at the private residence pool 
Upon our arrival, I quickly changed into my bikini, grabbed my sunscreen and cute boyfriend and headed downstairs to the pool. It was a bit crowded, as it was around 3pm on the last weekend before schools were to re-opened but that didn't bother me too much. I ordered a Strawberry Daiquiri for myself and a Mango Silk cocktail for Bash which I secretly wish I had ordered for myself instead of the daiquiri. We sat and soaked up the sun while listening to the young kids and moms splashing about in the heated pools before heading back to our room to get ready for dinner. These pools, one shallow for smaller kids and a deeper one for adults, are perfect if you don't feel like going to the Valley of the Waves. It's smaller and less overwhelming, however, Valley of the Waves is obviously more of an experience for the kids. There's a new 'Chimp and Zee' zip-line activity that zips right across the valley which is such a fun and exciting addition to the resort.
Have Dinner at Legends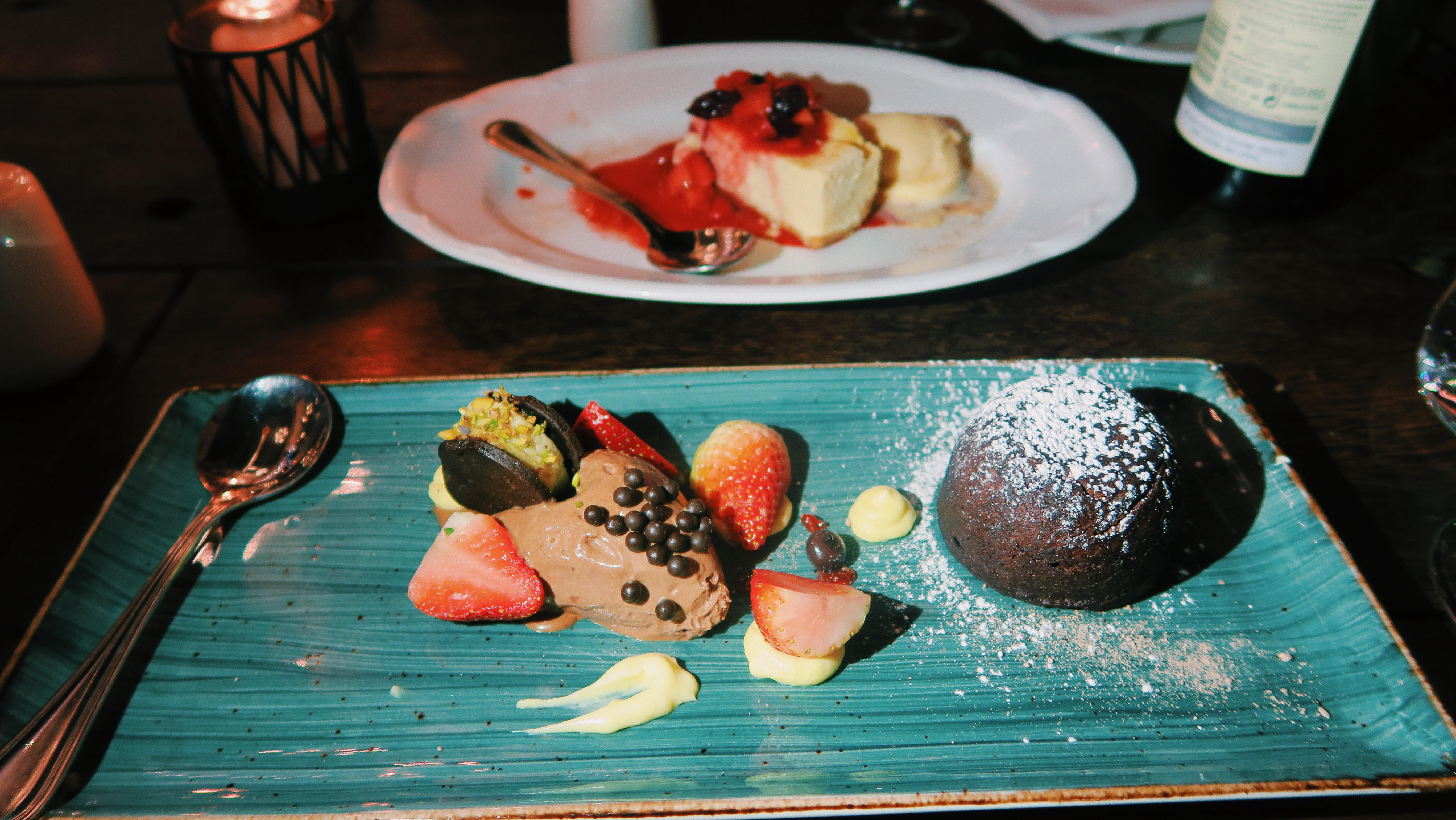 A grill house restaurant for all ages, Legends is the best place to unwind after a long day in the sun. With live entertainment and the latest hip hop tunes playing while you wait for your juicy steak, I couldn't help but sing out loud each time I heard my favourite song. What I loved the most about this dinning experience was that everyone was super laid back, the live entertainer for the evening called up all of the children who were present to hit the dance floor while he sang songs that we all knew and loved. The staff bounced around to the music as they brought in our order; Bash even spotted the manager taking 5 minutes to show us that he too still has some moves like the young ones. For dinner I ordered succulent lamb chops and three different sides, which did make the waitress a little nervous as people usually only order one. I had fries, creamed spinach and sweet corn which I did eventually share with Bashy. For dessert I ordered the chocolate fondant which actually comes with a side of chocolate mousse, in all honesty, a dessert plate meant to be shared by two, but my sweet tooth allowed for me to polish the plate alone with no regrets. We were among the very last to leave the restaurant as we sat and watched the staff let loose and dance. It was so refreshing to see such happy staff for a change at such an establishment. It was such a pleasure eating there, it is by far my favourite restaurant at the Sun City Resort. 
Extreme Adrenaline Activities
With every trip that we have been on lately, there has been some sort of extreme activity involved, which really tests my limits. This time around it was quad biking through a 4×4 challenge circuit. This was fist time on a quad bike so naturally I was a bit anxious but I eventually got into the groove of things. I tried one challenge that is similar to the ones I've seen at 4×4 events and immediately knew that the rest of the circuit was not for me. While Bash went through the whole circuit, I opted to just drive up and down all the steep hills and try race the instructor as I gained my confidence behind the wheel. I really had fun getting all dusty and testing my own limits. Ladies, leave your wigs in your hotel room, pack a pair of sunglasses to protect your eyes from the dust and don't bother putting on make-up before this activity as you will sweat. A LOT. 
Visit the Gary Player Spa 
After eating my instructor's dust, we headed to the Gary Player Spa for some much-needed relaxation. You have to book all treatments ahead of time and arrive at least 20 minutes before your booking. We were booked in for 30 minute body massage so we arrived just in time to shower off all the dust and sweat that we had accumulated from the quad biking. We walked into a very romantic setting in our massage room; rose petals and bubbles on ice. I really enjoyed my massage as I had been suffering from really bad aches in my shoulders, probably due to stress. After you massage you are most welcome to enjoy the rest of the facilities – hot shower or sauna session. Pure bliss. 
Go on a Game Drive through Pilanesburg National Park
I really have a love/hate relationship with animals, especially domestics ones. They are cute from afar but personal i would never own or live with one. On the other hand wild animals have my heart although I am petrified of them, however, It's not often that one gets a chance to go on a private game drive. With a cooler box packed with champagne, biltong and nuts, we completely our lovely afternoon with a drive through Pilanesburg National Park. Within 15 minutes of  our drive we had already spotted blue buffalo, hippos and the white rhino. I was so excited! Pilanesburg is a 55 hectares generous space of land with over 3 different entrances so spotting the big 5 and other little creatures on the land is a 50/50 chance. We were super lucky to bump into 3 teen lions, scary because they looked so hungry and were on the prowl right next to us and also seeing over 15 beautiful giraffes, my absolute favs in the world. This completely wild nature park is one of 3 alkaline valiant in the world and the only one in Africa. Definitely as place to visit.
Have a Fine Dinning Experience at Plume 
For dinner we enjoyed a textured themed food and wine pairing experience at fine dining restaurant, Plume. Plume restaurant is the perfect place to visit for special occasions. On the night of our visit, a couple at dinner was celebrating their 10 year anniversary. With live entertainment during the evening, which I felt at times was a bit unnecessary for a fine dining restaurant, we were served a wonderful 5 course dinner. Out of the five, I definitely enjoyed the main meal which was 'Olive poached salmon and sweet potato skins" the play on texture along with the pairing of rosé bubbles to elevate the flavour was absolutely exquisite. Booking ahead of time is required and smart casual dress code is essential.  
I am super excited to dedicate this year to visiting more places in and around Johannesburg. Travel is definitely a focal point for my adventures this year. What do you guys think?